The incredible popularity of Koh Tao's own HTMS Sattakut wreck has had us thinking about our bucket-list wreck dives around the world, and after much deliberation we've come up with the following, our best of the bunch not-to-be-missed wrecks that all scuba diving aficionados just have to see!
Fujikawa Maru, Truk Lagoon, Micronesia                         
The Fujikawa Maru was a cargo ship, built in 1938 by Mitsubishi and requisitioned by the Imperial Japanese Navy during World War II to be used as an armed aircraft ferry. The conversion included a compliment of six inch guns cannibalised from old cruisers which had last seen action during the Russian/Japanese war. Fujikawa Maru arrived in Truk in 1944,and off-loaded thirty B5N2 bombers onto Eten Airfield. Since these aircraft had been disassembled for shipment, they were unable to help defend Truk in the military operation against the Japanese (called 'Operation Hailstone') and were destroyed on the ground, plus the Fujikawa Maru was sunk- leaving us with possibly the world's best wreck diving site.
It's now a picture perfect shipwreck, covered with coral and sea life. Each of the five holds also offer incredible marine life, however the highlight is maybe the massive engine room which occupies the midships area, taking up 3 floors. She also features a cargo of Zero fighter planes in one of her holds, and sits at depths of 5 to 37 metres.
SS President Coolidge, Vanuatu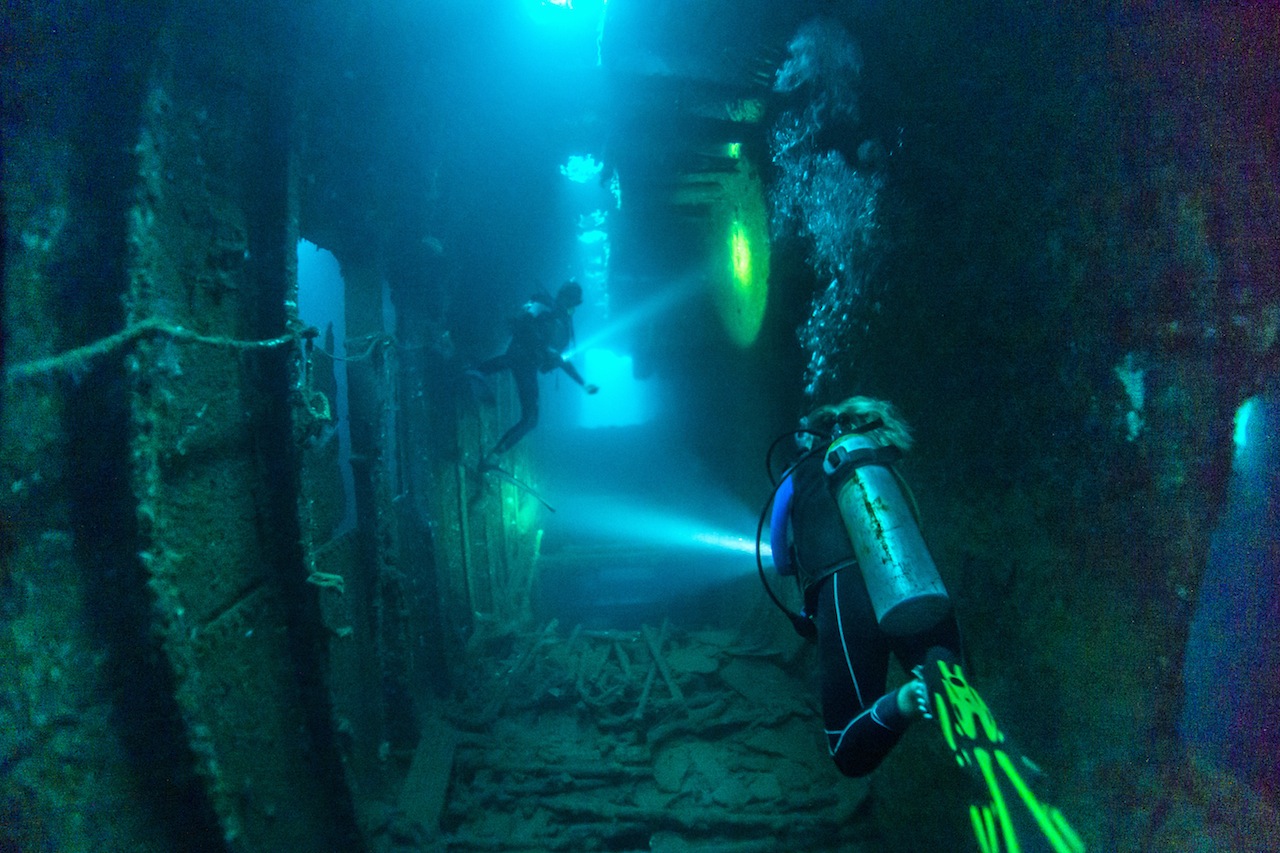 The SS President Coolidge off Santo, northern Vanuatu, was a WW2 luxury ocean liner. She was commandeered by the US navy and fitted out as a naval ship. Sank by one of America's own mines and almost completely intact, you can swim through the numerous holds and decks viewing the reminders of her glorious days as a cruise liner and the remnants of her not-so-glorious days as a troop ship. There are guns, jeeps, cannons, helmets, trucks and personal items left by some of the soldiers, as well as a beautiful porcelain statue called 'The Lady', chandeliers and a mosaic tile fountain! The wreck is covered in coral and is the home to a plethora of sea life such including barracuda, lionfish, and a host of reef fish
The engine room and one of the dining rooms are at a depth of about 47 metres, the promenade deck is around 33 metres, and the mosaic lined swimming pool about 50 metres down - time to do those deep specialties and tech courses!
USAT Liberty, Bali                                                                            
This incredible wreck dive site is a 130m long armed cargo ship which was hit by a Japanese torpedo during World War II, then pushed back into the water in 1963 by the eruption of Mount Agung which caused the vessel to slip off the beach! It now lies on a sand slope from about 9 metres to around 30 metres of water, making it possible to snorkel and amazing to dive. This wreck dive will certainly keep you busy, as the ship itself is smothered in marine life that has transformed the ship's remains into an underwater haven. Here, you will find a variety of hard and soft corals, sea fans, nudibranchs, gorgonians, hydroids, anemones, and much more.
The SS Yongala, Townsville, Australia                                           
SS Yongala was a steel passenger and freight steamer built in Newcastle upon Tyne, England and operated on the passenger route linking the gold fields of Western Australia with the eastern ports of Adelaide, Melbourne and Sydneyand. It is now a world-class shipwreck off the coast of Queensland absolutely teeming with life - you may see manta rays, sea snakes, octopus, turtles, bull sharks, tiger sharks, huge schooling barracuda and of course spectacular corals. 
The Yongala sank during a cyclone in 1911 killing 122 people, a racehorse called 'Moonshine' and a red Lincolnshire bull. It was believed that the hull of the ship had been ripped open by a submerged rock, and the wreck was not found until 1958. The ship is 109 meters long, and reaches depths of 30 metres, with the upper sections of the wreck just 16 metres below the surface - strong currents mean an SSI or PADI Advanced license is recommended before attempting to dive it.
Thistlegorm, Egyptian Red Sea                                                       
A British vessel, the Thistlegorm ( Gaelic for Blue Thistle) was attacked from the air and sunk in 1941 whilst carrying a cargo of war supplies. In spite of being privately owned and operated, the HMS Thistlegorm was nevertheless fitted with a 4" anti-aircraft gun and a heavy calibre machine gun when she was drafted for war duty. In the early hours of 6th October 1941 the Thistlegorm was split in two and sank almost instantly after being hit by two bombs from a German long-range bomber. The hit only blew a hole in the port side of Hold no. 5 but then cargo tank ammunition ignited, causing the bulk of the damage.
All but 9 of the crew escaped and the Thistlegorm reached its final resting place 30m deep on the sandy sea bed, where she lies upright with her stern section separated from the main body by 20m. The ship is largely intact except for the impact area but the split hull reveals the cargo, where you'll find BSA motorbikes, Morris automobiles, Bedford trucks, Lee Enfield rifles, bombs, munitions crates, grenades, anti-tank mines and some spare parts for tanks and planes.
Currents can be strong, and going off in different directions at the surface and at the wreck itself making it a challenging dive for the less-experienced scuba diving addict. A big wreck - 131 metres long - you'll want to do this more than once to explore fully.
How would your top wreck dives compare to our list? Let us know about your favourites!