The monthly full moon party on Koh Phangan, Thailand is something talked about by backpackers throughout SE Asia, and certainly has a reputation - dirty, debauched, depraved, drunken and occasionally deadly, it's something that really divides opinion amongst those that frequent it - it's either a wild, alcohol-fueled beach party where people from around the world have a great time and dance until sunrise, or it's a polluting noisy rip off that's too crowded and full of dicks trying to rip you off or feel you up.

Here we're going to look into a bit more detail obout the origins of the party, and what makes it such a big deal nowadays.
The first party was in 1988, when a bunch of hippies convinced some locals to take them from neighbouring island Koh Samui, to it's little brother and nearest neighbour Koh Phangan. It was this year that electricity lines were laid from the main town of Na Thon on Koh Samui and each bungalow resort was hooked up, angering some farang hippies who complained about the advent of electrical power, calling it "colonialism" or "butchering the Thai culture" in typical hippy fashion!
Described by Scotsman Colin Hinshelwood (in an interview with Time magazine) who was present at the first ever party, he said those days "the skies were star-spangled and blue phosphorescence would spray like diamonds in the sea … the sand glowed silver and the waves danced alive as they hit the shore....we had tents, sleeping bags, some crates of water, Coca-Cola and some food. I think we had some Singha beers as well, but not many. Perhaps a bottle of Mekong [whiskey] or two for some. Not much alcohol at all; certainly no buckets. For the majority, it was ganja-smoking rituals by the bonfire followed by magic mushrooms and an evening of getting naked, splashing in the sea, and dancing around imaginary Stonehenges. "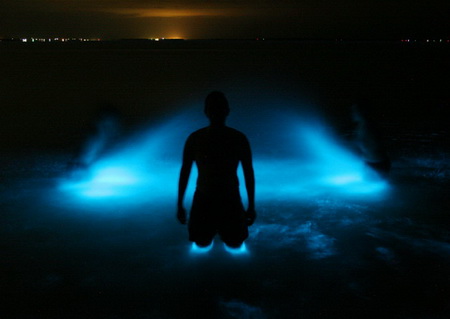 Today, however, this paradise setting has degenerated into a loud rabble of old, cheesy house music, cheap fast food and hammered young tourists all dressed up in lurid neon colours, with the emphahsis heavily on consuming as much alcohol as possible. Rituals today include cutting yourself on glass bottles, setting yourself on fire trying to jump a flaming skipping rope, and losing your i-phone... So what is it that draws around 30,000 people to Ko Phangan every month for more?
The Full Moon Party is a giant festival-like party with a lot of drinking, dancing, drugs, and a bit of sex. The party actually begins days before as people slowly trickle onto the island fresh from backpacking Thailand, full of hopes, dreams and STDs. On the day of the party, you see travellers and locals from neighboring Koh Samui and Koh Tao and from other parts of the island adding to the crowd, and the drinking begins early in the afternoon with most people heading to the beach around 9pm. Every bar has its own sound system fully cranked, so you'll hear different music loudly blasting onto the beach every few feet - not so easy on your ears when standing between two sound-systems, one playing One Direction (a dub mix, probably) and the other Maroon friggin Five (electrodub mix?). The beach itself is lined with makeshift stalls selling buckets full of cheap alcohol and super-strength energy drinks, fire dancers putting on shows, and guys selling glowing face paint. The crowd peaks around midnight to 2am, and by the end of the night, you'll see people passed out on the beach, the odd couple having sex, and one million flip-flops and plastic straws littering the beach - if they haven't already been washed into the ocean.
Overall, the Full Moon Party is a crazy party made up of visitors from all around the world. As much as it is generalized that the crowd is mostly made up of young Thailand backpackers, there's actually people of all ages and from every imaginable background. It's a place to let your hair down, dance and have a few drinks till the sun comes up, but of course in a responsible manner! To make it the party you've dreamed of, it's wise to consider these tips for a happy party:
Footwear
Partying on the beach without footwear may seem fun, but as the night goes on, broken bottles and other sharp objects litter the beach. We see so many people here on Koh Tao that have returned from the Full Moon Party with sliced open feet after stepping on a bottle - which also means no swimming for at least a week! You're drunk, it's dark, just wear something on your feet!
Drugs
All drugs are illegal in Thailand and punishable by time in some pretty awful prisons. Undercover police will try to sell you drugs only to arrest you, and we've all heard stories of locals who will sell to you then rat you out to the police for a reward - the simple advice is don't do it, or if you must then be very careful indeed - bribes are expensive, but prison is worse!
Fire
As much fun as skipping a kerosene-soaked flaming rope might seem, it's an excellent way to lose you skin - which usually means you'll need to keep the burnt part dry for at least a week - whilst on tropical beaches! Basically, leave it for the idiots or get your thrills watching others barbeque themselves all the way to the local hospital.
Water
Stay hydrated! Water will firstly really help with the hangover the next day, but also will stop you from dying so drink a lot before you go, and try to get a few more bottles inside you during the party. Sea water will not suffice!
Swimming
It may seem like a good idea to frolic drunkenly in the ocean, but it's often not. Not only do you risk drowning, but everyone is using the ocean as their personal toilet during the party. There's a reason the water is warm, and it's not because you're in Thailand! And no, they aren't little brown fish on the surface either...
Personal Items
As hard as it seems nowadays for people to put their bloody phones down for even a few minutes, there's an excellent chance that it'll get lost or stolen at the party. Take your room key and some money, and if you absolutely must take a camera with you try to attach it to your wrist so it doesn't end up partying without you!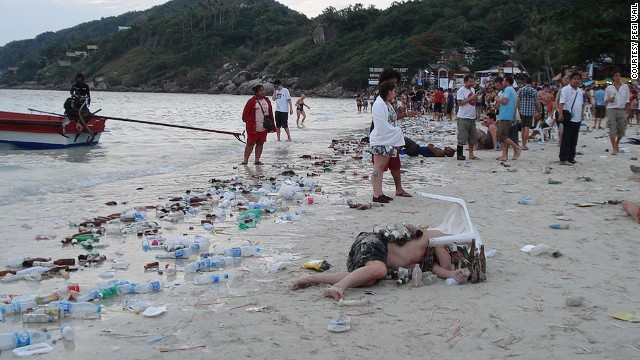 Litter
Our biggest bugbear regarding the party is the insane amount of rubbish that goes into the sea at these parties, and every bucket ordered has a handful of plastic straws thrown into it. Please try to be responsible with your plastic usage here, and please don't let it go into the ocean - try to find a bin, or give your litter back to the nearest bar/stallwhen you're done with it.
Whatever you make of it, the Full Moon Party is one of the biggest and best-known parties in the world, and will surely continue to dominate debate amongst backpackers for many years to come. If you must go, remember to do your best to behave responsibly as if not done right, it can also be expensive and dangerous.
Party smart!