Friday, 16 February 2018 02:42
Things to do on Koh Tao (other than diving)
Every so often here on our beautiful little island we get visitors who, for some reason, don't dive. Such a life-decision is unimaginable to us here at Big Blue, but to pander to the needs of these surface-dwellers we've come up with this handy list of our favourite to do on the island when going underwater is not an option:
Explore the Island's Beaches
If you're planning a trip to Koh Tao, you'll definitely want to know more about the island's beaches. If you want to kayak, paddleboard, kite-surf, meet fellow Thailand backpackers or check out some of the daytime beach clubs then Sairee Beach is the one for you. The largest on Koh Tao and also the busiest, it offers stunning sunsets over a palm-lined beach every day of the year it seems, and usually attracts a younger crowd then the others on the island.
For snorkeling directly from the beach, Tanote Bay, Aow Leuk and Shark bay are all within a 20 minute drive of the pier, and give the chance to see turtles, reef sharks, squid and all sorts of beautiful corals and typical Koh Tao marine life.
More tranquil beaches that we enjoy include the secluded and cosy Sai Daeng Beach (pictured below) in the south of the island  - the drive down to it has incredible views, and we're also big fans of the sunset-facing Sai Nuan beaches for some good old hammock time with a nice cold beer.
                                                                           .
Take a Cooking Class
Take your taste buds on an exciting journey through the fantastic flavours and experiences of Thailand! This wonderful country is famous for its deliciously spicy cuisine, comprising of ingredients that can now easily be found in supermarkets around the world meaning it's well worth taking the opportunity to learn how to cook Thai the real way.Great for singles (to impress future partners!) and couples alike, learning how to cook Thai food is a brilliant idea here on Koh Tao, as we have a number of top-class cooks offering their services for very reasonable prices too – expect to pay around 1500 baht per person to learn 3 or 4 dishes. Our favourites are 'Idjang Kitchen' and 'Thai Cooking With Joy', both located just minutes from Sairee Beach.
Party!
The major party places on Koh Tao are all on Sairee Beach, the island's busiest and most popular stretch of sand. Head either to BND for the most up-to-date tunes, Fishbowl Bar for cheesy party music and beer-pong, or Lotus Bar for similar cheese, but this time dancing right on the beach underneath Sairee's famous overhanging palm tree. 
For a more chilled, slightly older crowd Fizz on Sairee beach is also worth a look, and also gives the opportunity to rest those weary bones in an oversized beanbag as the sun goes down. After you're regained a little energy it's essential to go visit the Ladyboy Cabaret on Sairee, which may offer up a few surprises!
Young, solo traveler with no-one to party with yet? Then you need to visit the…
Koh Tao Pub Crawl
Everywhere you turn when backpacking Thailand and the rest of South-East Asia there are people wearing a Koh Tao Pub Crawl tank top.  It's a really popular activity in Koh Tao, especially since the island is small, and all the nightlife happens around the same areas.  It's fairly inexpensive, and you get a free bucket and tank top.  They start at the legendary Choppers Bar, then off to Lotus Bar Pool, take you to the Ladyboy Cabaret and finish off with live music back at Choppers. It's almost impossible to leave it without a whole bunch of new mates, and they get everyone to write their name on their arms in permanent marker pen so you know who you've woken up with the next morning.
It runs every Monday, Wednesday, Friday and Sunday, and is not for the faint-hearted.
Hiking & Viewpoints
A great activity to have on your list of things to do on Koh Tao is hiking. Koh Tao has some amazing hikes to viewpoints with panoramic views, most of which are within an hour or so of your starting point – the beauty of being on such a small island!
As not many people decide to check out our hiking trails and viewpoints, more often than not you'll have them all to yourself – our favourites are the walk to 'John Suwan' viewpoint (which offers a perfect panoramic view of the whole of Chalok Baan Kao and Shark Bay at the same time) and the 'Two View' viewpoint, Koh Tao's highest peak which can be reached from Tanote Bay in under an hour.  We also love the 90 minute trek from Sairee Beach to the abandoned resort at Laem Thian, which has excellent snorkeling and is usually completely deserted if you head there in the morning before the sun gets too high in the sky!
Koh Nang Yuan
Located just 20 minutes by boat from Koh Tao is Koh Nang Yuan, three islands connected by a sand bar – said to be the only one of its kind in the world! Usually featured in all of your guidebooks and a must-see for all visitors to Koh Tao, it's surrounded by shallow aquamarine waters, white sand, lovely snorkelling and the world class viewpoint - this place will set you up for a perfect day of relaxing and enjoying all the natural beauty that Thailand has in abundance.
Best visited in the early morning before the lazy, or after 2pm when the crowds of visitors from Koh Samui and Koh Phangan start to disperse, a 300 baht boat ride will show you exactly why Nang Yuan continues to be rated as one of the essential trips to take whilst holidaying here on Koh Tao – the viewpoint alone is worth the cost of getting there.
However you choose to spend your time here on Koh Tao, you can be sure that you're going to have the time of your life and make memories to last a lifetime - just remember to bring your camera and expect to stay here a little longer than planned!
Monday, 12 February 2018 06:21
How to Get to Koh Tao from Bangkok
Decided to come visit our little piece of paradise? Here we'll talk a little about the 3 different ways you can get to Koh Tao from Bangkok!
The Fastest/Most Expensive Way – Fly and Ferry
By far the shortest and easiest way to get here if your budget allows it is to take a flight and ferry combo. From Bangkok you can catch a flight to Koh Samui - there are two airlines offering services, Bangkok Airways and Thai Airways. Bangkok Air have more flights from Bangkok-Koh Samui making it very convenient for connecting to your ferry. Flights depart every half an hour from 6am to 10pm, and take about an hour to reach Samui - just be sure to check the boat timetables to Koh Tao before you book your flight to be sure of the connections!
Usually a slightly cheaper flight is to go from Bangkok to one of the nearby towns on the mainland, Chumphon or Suratthani. There are two budget airlines offering the combined tickets of flight, coach and boat - Nok Air and Air Asia. Nok Air connects with our favourite ferry (it's faster and a lot more reliable than the others) the Lomprayah at Chumphon or Suratthani, while Air Asia connects with the slower, less comfortable Seatran ferry at Suratthani.
The Cheapest/Most Uncomfortable Way – Bus and Ferry
By far the most popular and social way to get to Koh Tao (especially with all our Thailand backpackers) is to take the bus from Bangkok, and then connect to a ferry from the mainland town of Chumphon.
There are two companies who offer this service; Lomprayah and Songserm. Their (so-called) VIP air-conditioned buses depart Bangkok at around 8pm from Khao San Road, and arrive at the relevant pier at Chumphon around 7 hours later, depending on traffic and the enthusiasm of the driver! The bus will usually stop once around half way for about 20 minutes only, and give you a chance to grab something to eat and a quick toilet stop – the toilets on the buses are tiny and usually absolutely stinking!
The boat journey to Koh Tao is between 2 hours (Lomprayah) and 3 hours (Songserm) depending on the company you choose to go through.
We always recommend using the slightly more expensive Lomprayah over the Songserm if you are going to take the bus down to Chumphon, quite simply because it's quicker, the buses are usually more comfortable and every so often we hear stories of people's bags having things stolen from them on the Songserm bus – something that we've never heard from our Lomprayah travellers!
The Coolest Way - Sleeper Train and Ferry
Travelling on the sleeper train is, to be perfectly honest, absolutely great! It's always a lot more comfortable than the bus as you can walk around to stretch your legs, have a cheeky cigarette, there's a restaurant car to fill up on cheap Thai food and the staff on there can often provide a sneaky beer or two for you if you're willing to pay a little over the odds for them! First Class (AC) and Second class (fan) sleeper come with a real (surprisingly comfortable) bed so you can sleep during the journey, plus there's also the option of paying a bit extra for a 'private' 2 person cabin if your budget allows it!
Third class however does not come recommended by yours truly, as it's just a seat rather than a bed and they're not the most comfortable seats you'll ever sit on.If you do decide to go for the AC carriage be aware like most air-conditioned places in Thailand it can get rather cold, so pack a pair of jeans and a jacket near the top of your backpack just in case!
From Bangkok, you'll leave from Hua Lamphong Station at around 7pm, and the train gets to Chumphon station usually around 5am. The boat companies provide free transfers between their pier and the train station, and the first boats depart to Koh Tao at 7am – as always we recommend the Lomprayah over the other ferries if it's available.
As with all trains, delays are possible so you may have to get an afternoon ferry to Koh Tao if you don't make it in time for the early boat – in this case there's a great travel agent just 5 minutes from the station called 'Fame Tours' where you can leave your belongings, have a wash and a bite to eat and book your tickets for the ferry of your choice. 
Be aware that buying your train tickets online will usually cost a few hundred baht more than buying them in person, and as a general guide for the Bangkok to Chumphon route you can normally buy 2nd and 3rd Class Fan Seats on the day of travel but not 1st and 2nd Class Sleeper seats and 2nd Class AC Seats, so it needs a little forward planning.
Finally at busy times of the year (including the week before and after Koh Phangan's monthly Full Moon Party) sleeper beds are usually fully booked up to a week in advance.
Whichever way you decide to come and visit us here on Koh Tao, be sure to keep a close eye on your belongings, and also keep an open mind on the possible delays and waiting around time that Thailand is famous for…
Bon voyage!
Friday, 09 February 2018 11:23
The Top 3 Underrated Koh Tao Diving Encounters
For a small island, Koh Tao is blessed with a lot of dive sites; we have around twenty-five beautiful sites within an hour by boat, with a wonderful mix of easy, shallow sites for beginners and deeper, more difficult locations for those wishing to challenge themselves more underwater. No matter what your experience level is, all of us diving on Koh Tao are after one thing in particular - to share our dives with incredible marine life!
Here, in no particular order, are my top unusual things to encounter whilst beneath Koh Tao:
Bigfin Reef Squid
Now not everyone will agree with me here, but i'm quite the fan of these delicious little buggers with their spectacularly hypnotic appearance. Often seen hanging around close to the buoylines or very close to the surface at Chumphon, Hin Wong and South West Pinnacle, if you happen to bump into them it's well worth keeping a very close eye on them in case they start showing their amazing capacity to change colour in a blink of an eye!
Bigfin reef squid, which in general have a lifespan of about a year, are very skilled in this art of colour change and use it mainly for camouflage or to startle and warn potential predators. It's produced by changing the way light bounces off their bodies by altering the patterns of pigment in their skin, which mimics sunlight dancing in the water in such a way that they become essentially invisible. The effect is absolutely mesmerizing and also quite hypnotic, with streaks and waves of colour flickering across their skin until they speed off into the distance, often leaving the lucky viewer in disbelief at what they just witnessed.
How to see them? -  If you sit at the back of the boat at night with a bright light shining into the water, the bigfin reef squid hang out in the shadows and wait for small fish to come towards the light. When they see their prey they dart in and grab the fish and disappear back into the shadows again - easy!
Weird Fact - All types of squid have three hearts, but will never send a Valentine's Card.
Nudibranch
A phenomenal creature that only the best of Divemasters can locate, these slime-oozing creatures with a boneless body feature brilliant colors and eye-catching patterns on their skin, and is often considered one of the most beautiful animals in the world - often referred to as 'Mother Nature's Greatest Work of Art' by divers, there's certainly there's no other creature on the planet that has colour patterns as spectacular as a sea slug! Hermaphrodites, their size ranges from just a few millimetres to around 30 cm and there are more than 3000 known species of nudibranch, with new ones being identified almost daily. They are carnivorous, so their prey includes sponges, coral, anemones, hydroids, barnacles and other nudibranch - it's nice to see cannibalism is finally making a comeback! They are actually very picky eaters, and individual species or families of nudibranchs may eat only one kind of prey, so as all good DMs know when you find their favourite food there's a good chance there'll be a nudibranch hanging around close by waiting for their next meal.
Weird Fact - Some nudibranchs are actually solar-powered! They create their own food by harvesting coral with algae, and house this algae inside their bodies. This algae derives its energy from light via photosynthesis, which is then used by the nudibranch to provide nutrients to sustain it for months- the human equivalent would be sticking a plant on your back and never having to eat again!
Weirder Fact - Some humans actually eat nudibranchs. Chileans and some islanders in Russia and Alaska roast or boil sea slugs and sometimes eat them raw...it has been described as "chewing an eraser", and is not recommended by Big Blue.
Saddleback Clownfish Protecting its Eggs
Named due to their wide white head band and a wide white middle band that looks like it forms a 'saddle', these aggressive little fish are always one of the most popular things to see with our first time divers, but for the more experienced diver amongst us it's well worth taking a closer look around their home anemone to see if any eggs are present, in my opinion one of the most interesting things about the clownfish species.
Clownfish are always very dependent on their host anemone and stay very close to it. They do not migrate to other anemones to start new families, but stay in their host for their entire life time unless the anemone dies. It's only when protecting eggs that will they will stray from their anemone, and it is common to see them swimming a fair distance to warn off anything they believe may be showing too much of an interest in their young. The female will lay her eggs upon a flat surface just to the side of their host anemone, in the area that the happy couple cleared of debris earlier.  Such items as shells, coconut shells or litter such as tin cans or plastic are often seen housing the eggs here around Koh Tao!
The male is the one whose main task is caring for the eggs, and he quickly attacks any approaching predators, preferring to rely on an excellent offense as his best defense - attacking and biting the intruder. When no threat is present, he fans the eggs with his tail both to aerate them as well as to remove any debris that may have settled onto them. In addition to fanning the eggs, the male removes any unfertilized or infected eggs by eating them!
 In general, the eggs are pink to orange in colour as they are laid and remain so for a couple days. As they age, their pink to orange will gradually fade to a dull grey or brown. Finally, as the hatching nears (usually around 1 week after laying), they become shiny silver with the fry's developed eyeballs clearly visible. This in particular makes for an excellent photo, as you can see in the example below – just watch out for angry Dad!
Weird Fact -  If the large breeding female is removed, her male mate changes sex to female and the next largest fish in the group rapidly increases in size and takes over the role as the sexually mature male. 
Sunday, 04 February 2018 06:24
Choosing your Dive Centre on Koh Tao
With over 85 dive centres now on Koh Tao, choosing which one to do your PADI/SSI Open Water course with has never been harder. Talking to the dive centre in person is something we highly recommend, but with each of them doing their utmost to sell you on their own particular store it's good to go with some ideas on what you're looking for before booking your scuba license.
So what facts should we take into consideration when deciding who to grace with your presence and go scuba diving with? Here we're going to talk about a few things to have a think about before making that decision:
Large or Small?
Each has their pros and cons, and it really depends on what you want from your new dive centre - do you want one-on-one with the instructor and diving from a small boat, or do you prefer to have a few others also learning with you and a larger boat? Diving is a very social experience, so personally I like to have a few others around so I have the chance to make friends with a bunch of people, and the large boats are a lot more comfortable in waves due to their increased weight - take note those of you who can get seasick!
Pool Training or Immediately in the Ocean?
For a nervous diver, the choice is very simple - find a dive centre that uses a pool to learn to dive. To immediately be jumping into the ocean with around 15-20 kg of equipment many people have never seen in their lives can be very intimidating, and here on Koh Tao you've then got a 20-30 minutes swim to get to the beach area to practise for the first time, with snorkellers, swimmers, kayaks, current and visibility to think about as well as all the new skills you need to learn. To learn all the new techniques in a pool before getting into the sea is a lot less nerve-wracking - after all you're just stepping into a shallow pool - and there are never snorkellers, kayaks, currents etc.. Another negative point about immediately learning in the sea is that you now have a time limit to get through all the things you need to successfully complete before being allowed to go on to the next part of the course (as the boat needs to get back before the sun goes down) whereas the pool doesn't go anywhere, giving the instructor the whole day to ensure that the student is totally comfortable and safe with this equipment before even considering getting into the sea.
We believe here at Big Blue that letting our students spend all that time in the pool is the safest way to teach them how to dive, so then when they're ready to ocean dive for the first time they're not terrified of the prospect but excited and raring to go!
Location
With so many dive centres on this small island there's not enough space on the beach for them all to have that ideal location right on the shore, so you'll find that most of the cheaper ones are located on the streets around Sairee, Mae Haad and Chalok - of course you will have a much better experience if your dive centre is situated right on the beach, as the natural beauty of our beaches can't help but inspire a student compared to those on a dusty street. So how do we choose which of these beaches is best?
For those who want to be close to all the action there's no better choice than Sairee Beach. With the best restaurants, bars and clubs on the island located around there and easily the best spot to view the islands incredible sunsets, Sairee is THE place to be if you want to be within walking distance of all the island's hottest spots, plus by simply heading to the north of Sairee you also get the peace and tranquility Thailand is famous for - but still just a five minute stroll down the beach to the busier parts!
For those who prefer more built up areas, or want to stay close to the piers for laziness reasons then Mae Haad is the place for you. With a few good places to eat, slightly more relaxed bars and no real clubs at all, it tends to attract the slightly older visitors to the island. The beach isn't as nice or clean as in Chalok and Sairee (due to the amount of traffic coming in and out of the port) but it's still a great place to relax and enjoy the sunsets of Koh Tao without as many backpackers around you.
Incredibly popular with the islands French and Spanish speaking contingent, south-facing Chalok Baan Khao is a smaller beach than Sairee and has a lot less people staying around it. One of the islands cheaper places to stay, it has a fair few budget Thai places to eat, and a handful of decent bars to enjoy afterwards. Those wishing to party may find it a little too relaxed, and the beach often suffers from the 'Low-Tide Blues' making it difficult to swim from there, but nevertheless it reamins a popular spot for those wanting peace and quiet above everything else.
Reputation
When scuba-diving 18 metres underwater on the deepest part of the SSI or PADI Open Water license, the last thing you want to be worried about is the equipment that's keeping you alive down there - and here lies the most important thing of all when choosing a dive centre - the quality, safety and reputation of the business. The safety of the diver must be the priority every day on every single dive, and this is where we can start using tools like Lonely Planet, Trip Advisor and Facebook to filter out those dive centres that appear good on paper, but in reality fail to impress. We always recommend a dive centre that had been diving these particular waters for a while, as then you know that they've worked out precisely where to send their students for the best possible Open Water experience, and it's worth going for the bigger dive centres over the small if you're worried about your safety - the larger dive schools have bigger budgets, so can spend a lot more on essential safety items. From well-stocked first aid kits to tanks of pure oxygen on every boat, you can tell a lot about a dive centre and how seriously they take their divers safety from the contents of their first aid kits - so sneak a peak!
Atmosphere
The final factor to consider when choosing your dive centre for that elusive SSI/ PADI Open Water is of course how you fit in with the people working there! The atmosphere generated at the dive centre is essential to cultivate the type of learning environment that inspires the students and makes them want to come back for more, and give their very best in all parts of the course. If you're surrounded by people you don't understand or get on with then immediately you're fighting a battle not only to complete the diving license but also to become a part of the group around you, which inevitably leads to frustrations. To find out if you are the right sort of person for the dive centre there's really no better way than to talk to them in person, and get a feel for the place before making that decision. If it's not possible to do this, then try shooting them a few messages on their Facebook page to see how they respond - you can tell a lot about the people from how enthusiastic or disinterested their replies are to you. Trip Advisor reviews will also tell you a lot about the atmosphere at the dive school from an unbiased source, so it's well worth trawling through a few to get an idea of what the place is like from the students themselves.
See you underwater!
Friday, 02 February 2018 04:59
Full Moon Party - Worth the Trip?
The monthly full moon party on Koh Phangan, Thailand is something talked about by backpackers throughout SE Asia, and certainly has a reputation - dirty, debauched, depraved, drunken and occasionally deadly, it's something that really divides opinion amongst those that frequent it - it's either a wild, alcohol-fueled beach party where people from around the world have a great time and dance until sunrise, or it's a polluting noisy rip off that's too crowded and full of dicks trying to rip you off or feel you up.

Here we're going to look into a bit more detail obout the origins of the party, and what makes it such a big deal nowadays.
The first party was in 1988, when a bunch of hippies convinced some locals to take them from neighbouring island Koh Samui, to it's little brother and nearest neighbour Koh Phangan. It was this year that electricity lines were laid from the main town of Na Thon on Koh Samui and each bungalow resort was hooked up, angering some farang hippies who complained about the advent of electrical power, calling it "colonialism" or "butchering the Thai culture" in typical hippy fashion!
Described by Scotsman Colin Hinshelwood (in an interview with Time magazine) who was present at the first ever party, he said those days "the skies were star-spangled and blue phosphorescence would spray like diamonds in the sea … the sand glowed silver and the waves danced alive as they hit the shore....we had tents, sleeping bags, some crates of water, Coca-Cola and some food. I think we had some Singha beers as well, but not many. Perhaps a bottle of Mekong [whiskey] or two for some. Not much alcohol at all; certainly no buckets. For the majority, it was ganja-smoking rituals by the bonfire followed by magic mushrooms and an evening of getting naked, splashing in the sea, and dancing around imaginary Stonehenges. "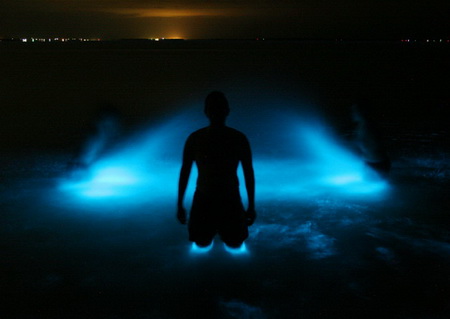 Today, however, this paradise setting has degenerated into a loud rabble of old, cheesy house music, cheap fast food and hammered young tourists all dressed up in lurid neon colours, with the emphahsis heavily on consuming as much alcohol as possible. Rituals today include cutting yourself on glass bottles, setting yourself on fire trying to jump a flaming skipping rope, and losing your i-phone... So what is it that draws around 30,000 people to Ko Phangan every month for more?
The Full Moon Party is a giant festival-like party with a lot of drinking, dancing, drugs, and a bit of sex. The party actually begins days before as people slowly trickle onto the island fresh from backpacking Thailand, full of hopes, dreams and STDs. On the day of the party, you see travellers and locals from neighboring Koh Samui and Koh Tao and from other parts of the island adding to the crowd, and the drinking begins early in the afternoon with most people heading to the beach around 9pm. Every bar has its own sound system fully cranked, so you'll hear different music loudly blasting onto the beach every few feet - not so easy on your ears when standing between two sound-systems, one playing One Direction (a dub mix, probably) and the other Maroon friggin Five (electrodub mix?). The beach itself is lined with makeshift stalls selling buckets full of cheap alcohol and super-strength energy drinks, fire dancers putting on shows, and guys selling glowing face paint. The crowd peaks around midnight to 2am, and by the end of the night, you'll see people passed out on the beach, the odd couple having sex, and one million flip-flops and plastic straws littering the beach - if they haven't already been washed into the ocean.
Overall, the Full Moon Party is a crazy party made up of visitors from all around the world. As much as it is generalized that the crowd is mostly made up of young Thailand backpackers, there's actually people of all ages and from every imaginable background. It's a place to let your hair down, dance and have a few drinks till the sun comes up, but of course in a responsible manner! To make it the party you've dreamed of, it's wise to consider these tips for a happy party:
Footwear
Partying on the beach without footwear may seem fun, but as the night goes on, broken bottles and other sharp objects litter the beach. We see so many people here on Koh Tao that have returned from the Full Moon Party with sliced open feet after stepping on a bottle - which also means no swimming for at least a week! You're drunk, it's dark, just wear something on your feet!
Drugs
All drugs are illegal in Thailand and punishable by time in some pretty awful prisons. Undercover police will try to sell you drugs only to arrest you, and we've all heard stories of locals who will sell to you then rat you out to the police for a reward - the simple advice is don't do it, or if you must then be very careful indeed - bribes are expensive, but prison is worse!
Fire
As much fun as skipping a kerosene-soaked flaming rope might seem, it's an excellent way to lose you skin - which usually means you'll need to keep the burnt part dry for at least a week - whilst on tropical beaches! Basically, leave it for the idiots or get your thrills watching others barbeque themselves all the way to the local hospital.
Water
Stay hydrated! Water will firstly really help with the hangover the next day, but also will stop you from dying so drink a lot before you go, and try to get a few more bottles inside you during the party. Sea water will not suffice!
Swimming
It may seem like a good idea to frolic drunkenly in the ocean, but it's often not. Not only do you risk drowning, but everyone is using the ocean as their personal toilet during the party. There's a reason the water is warm, and it's not because you're in Thailand! And no, they aren't little brown fish on the surface either...
Personal Items
As hard as it seems nowadays for people to put their bloody phones down for even a few minutes, there's an excellent chance that it'll get lost or stolen at the party. Take your room key and some money, and if you absolutely must take a camera with you try to attach it to your wrist so it doesn't end up partying without you!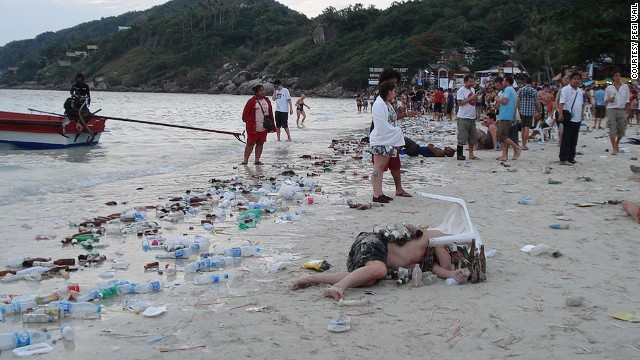 Litter
Our biggest bugbear regarding the party is the insane amount of rubbish that goes into the sea at these parties, and every bucket ordered has a handful of plastic straws thrown into it. Please try to be responsible with your plastic usage here, and please don't let it go into the ocean - try to find a bin, or give your litter back to the nearest bar/stallwhen you're done with it.
Whatever you make of it, the Full Moon Party is one of the biggest and best-known parties in the world, and will surely continue to dominate debate amongst backpackers for many years to come. If you must go, remember to do your best to behave responsibly as if not done right, it can also be expensive and dangerous.
Party smart!
Monday, 29 January 2018 09:57
The Top 5 Wreck Dives in the World
The incredible popularity of Koh Tao's own HTMS Sattakut wreck has had us thinking about our bucket-list wreck dives around the world, and after much deliberation we've come up with the following, our best of the bunch not-to-be-missed wrecks that all scuba diving aficionados just have to see!
Fujikawa Maru, Truk Lagoon, Micronesia                         
The Fujikawa Maru was a cargo ship, built in 1938 by Mitsubishi and requisitioned by the Imperial Japanese Navy during World War II to be used as an armed aircraft ferry. The conversion included a compliment of six inch guns cannibalised from old cruisers which had last seen action during the Russian/Japanese war. Fujikawa Maru arrived in Truk in 1944,and off-loaded thirty B5N2 bombers onto Eten Airfield. Since these aircraft had been disassembled for shipment, they were unable to help defend Truk in the military operation against the Japanese (called 'Operation Hailstone') and were destroyed on the ground, plus the Fujikawa Maru was sunk- leaving us with possibly the world's best wreck diving site.
It's now a picture perfect shipwreck, covered with coral and sea life. Each of the five holds also offer incredible marine life, however the highlight is maybe the massive engine room which occupies the midships area, taking up 3 floors. She also features a cargo of Zero fighter planes in one of her holds, and sits at depths of 5 to 37 metres.
SS President Coolidge, Vanuatu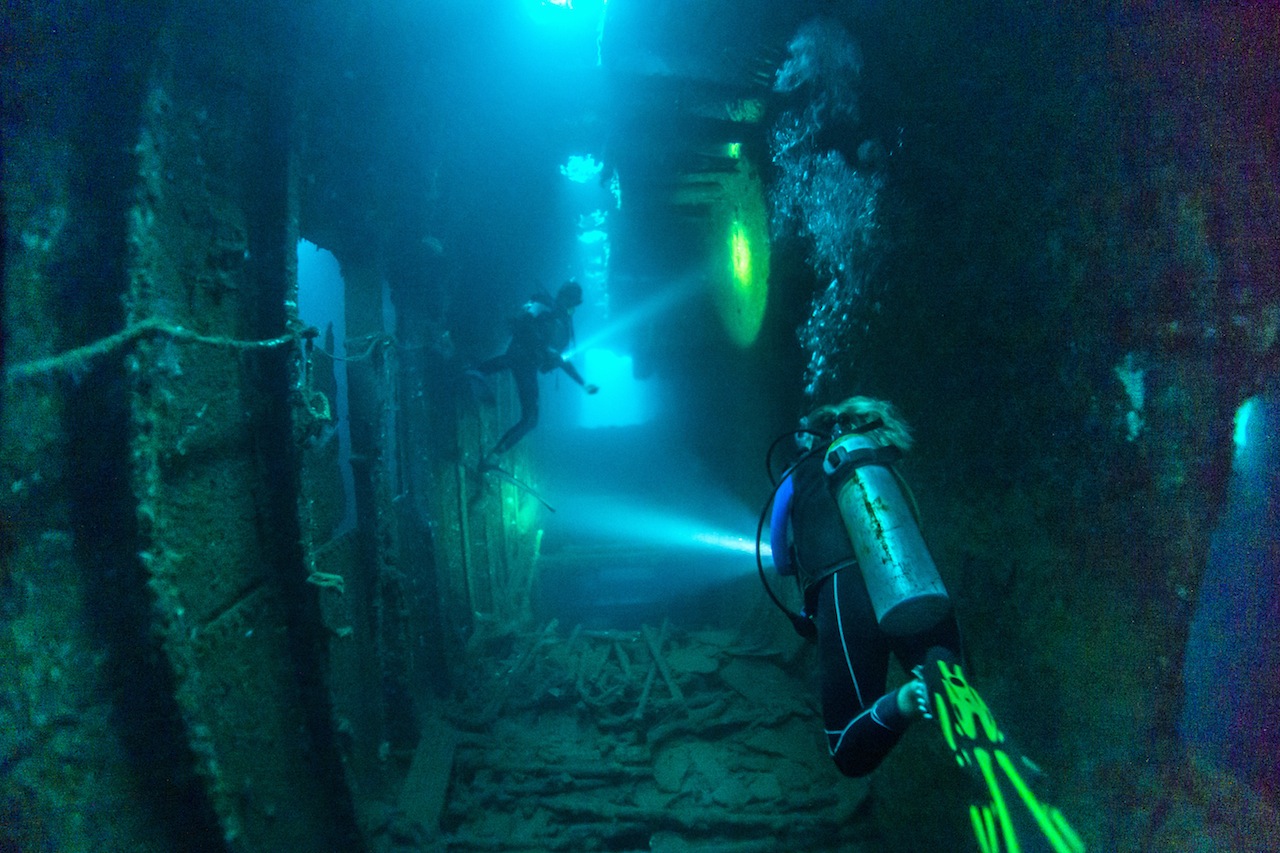 The SS President Coolidge off Santo, northern Vanuatu, was a WW2 luxury ocean liner. She was commandeered by the US navy and fitted out as a naval ship. Sank by one of America's own mines and almost completely intact, you can swim through the numerous holds and decks viewing the reminders of her glorious days as a cruise liner and the remnants of her not-so-glorious days as a troop ship. There are guns, jeeps, cannons, helmets, trucks and personal items left by some of the soldiers, as well as a beautiful porcelain statue called 'The Lady', chandeliers and a mosaic tile fountain! The wreck is covered in coral and is the home to a plethora of sea life such including barracuda, lionfish, and a host of reef fish
The engine room and one of the dining rooms are at a depth of about 47 metres, the promenade deck is around 33 metres, and the mosaic lined swimming pool about 50 metres down - time to do those deep specialties and tech courses!
USAT Liberty, Bali                                                                            
This incredible wreck dive site is a 130m long armed cargo ship which was hit by a Japanese torpedo during World War II, then pushed back into the water in 1963 by the eruption of Mount Agung which caused the vessel to slip off the beach! It now lies on a sand slope from about 9 metres to around 30 metres of water, making it possible to snorkel and amazing to dive. This wreck dive will certainly keep you busy, as the ship itself is smothered in marine life that has transformed the ship's remains into an underwater haven. Here, you will find a variety of hard and soft corals, sea fans, nudibranchs, gorgonians, hydroids, anemones, and much more.
The SS Yongala, Townsville, Australia                                           
SS Yongala was a steel passenger and freight steamer built in Newcastle upon Tyne, England and operated on the passenger route linking the gold fields of Western Australia with the eastern ports of Adelaide, Melbourne and Sydneyand. It is now a world-class shipwreck off the coast of Queensland absolutely teeming with life - you may see manta rays, sea snakes, octopus, turtles, bull sharks, tiger sharks, huge schooling barracuda and of course spectacular corals. 
The Yongala sank during a cyclone in 1911 killing 122 people, a racehorse called 'Moonshine' and a red Lincolnshire bull. It was believed that the hull of the ship had been ripped open by a submerged rock, and the wreck was not found until 1958. The ship is 109 meters long, and reaches depths of 30 metres, with the upper sections of the wreck just 16 metres below the surface - strong currents mean an SSI or PADI Advanced license is recommended before attempting to dive it.
Thistlegorm, Egyptian Red Sea                                                       
A British vessel, the Thistlegorm ( Gaelic for Blue Thistle) was attacked from the air and sunk in 1941 whilst carrying a cargo of war supplies. In spite of being privately owned and operated, the HMS Thistlegorm was nevertheless fitted with a 4" anti-aircraft gun and a heavy calibre machine gun when she was drafted for war duty. In the early hours of 6th October 1941 the Thistlegorm was split in two and sank almost instantly after being hit by two bombs from a German long-range bomber. The hit only blew a hole in the port side of Hold no. 5 but then cargo tank ammunition ignited, causing the bulk of the damage.
All but 9 of the crew escaped and the Thistlegorm reached its final resting place 30m deep on the sandy sea bed, where she lies upright with her stern section separated from the main body by 20m. The ship is largely intact except for the impact area but the split hull reveals the cargo, where you'll find BSA motorbikes, Morris automobiles, Bedford trucks, Lee Enfield rifles, bombs, munitions crates, grenades, anti-tank mines and some spare parts for tanks and planes.
Currents can be strong, and going off in different directions at the surface and at the wreck itself making it a challenging dive for the less-experienced scuba diving addict. A big wreck - 131 metres long - you'll want to do this more than once to explore fully.
How would your top wreck dives compare to our list? Let us know about your favourites!
Saturday, 27 January 2018 09:03
The Top 5 Dive Destinations (for non-divers too!)
As anyone who loves to dive knows, planning the next trip away is always very exciting, with so many options for world class diving now in easy reach reasonably cheaply. Pouring over old diving magazines and websites may well be heaven for the scuba addict, but what if you've got a non-diver (boo!) in tow who also needs something to do as you're having the time of your life underwater?
Hopefully this blog is exactly what you'll need in this situation, with my list of the best dive spots where non-divers can also have a whale of a time, just without whales!
The Galapagos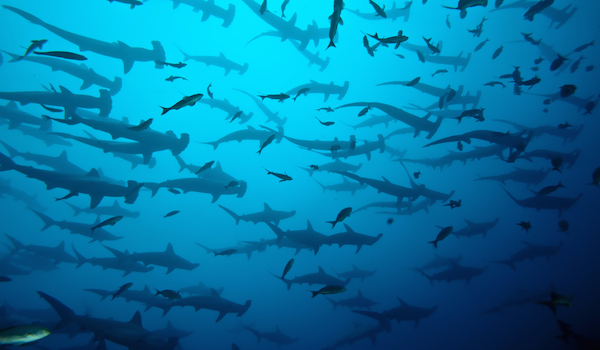 Very often found at the top of every divers bucket list, Galapagos is THE place to visit if your budget allows. The 'cradle of evolution' is not only a top dive destination, but also a great place to view wildlife in general. The Galapagos' various islands are quite different - while some have picture-perfect beaches and remote wildlife reserves, other are volacanic and rock covered.
Many plants and animals are endemic (native to the area), so you won't see them anywhere else in the world and the opportunities for wildlife viewing are arguably unmatched anywhere in the world. Above water, it's a must to see the massive Galapagos tortoise which lives over 100 years and is of varying sizes and shapes, depending on which island you visit. You can also hike up the Sierra Negra volcano on Isabela Island or explore the underground lava tubes of Santa Cruz, formed when cooler, outer parts of lava flows hardened into thick rock walls, providing insulation to keep a flow going inside. Remember to bring your torch!
Although most divers dream of a liveaboard trip to the Galapagos, with non-divers in your party it's often not an option. However, there are plenty of shore or day-trip dives available as well. Divers and snorkelers should see turtles, the amazing marine iguana, hammerheads, rays, whale sharks, penguins or sea lions.
Egypt                                                                           
Booking a scuba diving vacation in Egypt is high on most divers hit-list, and if your non-diving partner loves history and culture then you're both in for a treat with what Egypt can offer you! Stunning Egyptian cultural and historic sites (no need to mention them here I imagine) are within reach of many of Egypt's scuba diving hot spots. Divers should in particular check out 'Big Brother' with its oceanic white-tip sharks, hammerhead sharks, silver-tip and even the very rare thresher shark on occasion. Another popular site is Daedalus (known for it's abundance of large fish and the dozens of hammerhead sharks that can be seen on a good day), and of course the SS Thistlegorm, which is often rated as one of the best wreck dives in the world. Its deepest point is sitting at approximately 37 metres, making the majority of the ship accessible to those holding a SSI/PADI Advanced Open Water certification!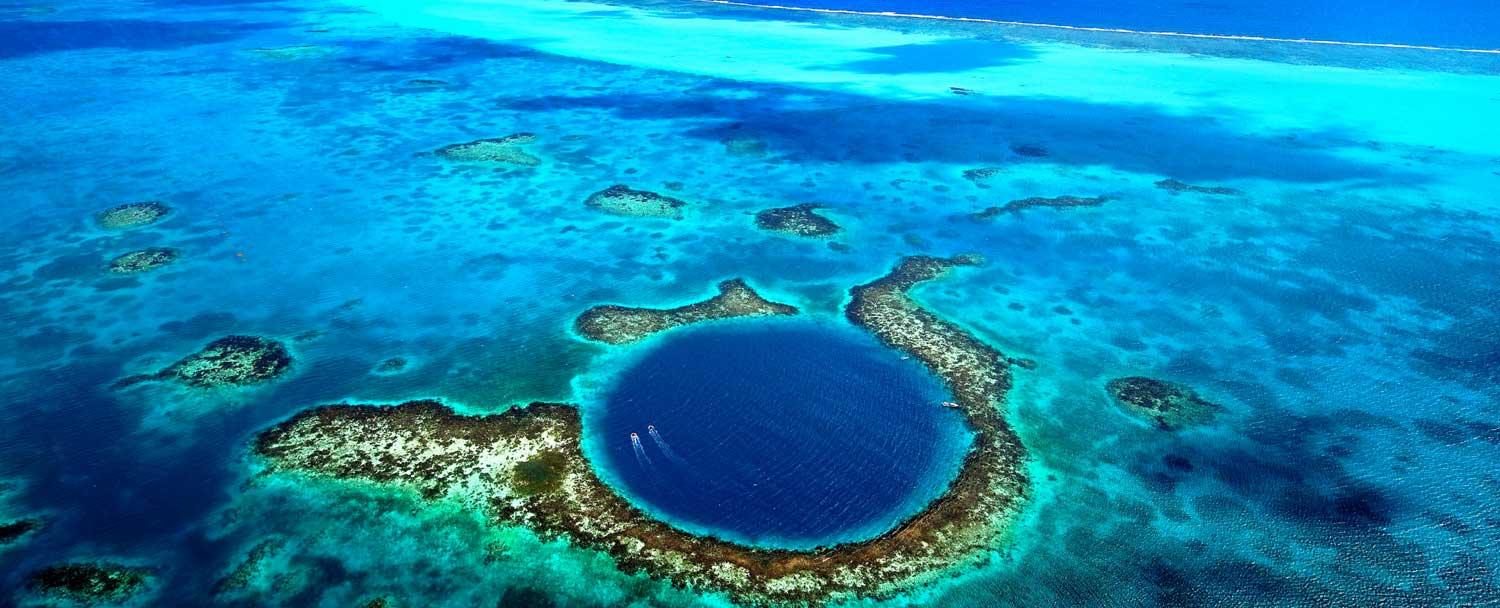 Belize                                                                           

Well known for its boat, shore and live-aboard diving opportunities along the Belize Barrier Reef and, of course the Blue Hole which can be seen from space! Divers can expect to see lots of sharks, turtles and reef fish no matter where they choose to dive; however, Belize also offers the more active family lots of options when it comes to activities like cave tubing, horseback riding, ziplining and rafting.
There are Mayan temples and rainforests to explore, and families can visit Placencia where it's an absolute paradise for manatee lovers, due to its protected lagoon where three rivers merge. It's home to about 1,000 manatees, and the population is stable so it should be possible to see these bizarre creatures all year round. Ambergris Cay, Belize's largest island, is also a great base for a vacation. There are lots of restaurants, snorkeling, windsurfing and kiteboarding, as well as access to the Hol Chan Marine Reserve where you can snorkel or dive with sharks and huge stingrays. For those who love the beach or relaxing on a hammock whilst waiting for the divers to return Belize is ideal, with some of the best beaches on Ambergris Caye, Caye Caulker, Placencia, Hopkins and in southern Belize.
Oh, don't forget English is their first language too, so it's easy to plan all this when you get there!
Cairns, Australia                                                           

Unfortunately a lot harder to be understood as the locals speak an English dialect called 'Straylian', Cairns is a mecca for scuba diving due it's close vicinity to the phenomenal Great Barrier Reef. Day trips to the Outer Great Barrier Reef are a great choice for the diver or snorkeller who is short on time, and there are a huge variety of trips on offer that will keep everyone happy, diver or not!
Most day trips focus on the 'Inter Reef Gardens', heading off to places like Green Island, Michaelmas Cay, Fitzroy Island, and reefs in close proximity to these places. It's also worth checking for day trips on the faster boats, which make it possible to get out to the Outer Reefs in one day - the corals are much better here. For marine life, cross your fingers for one of the thirty species of whales, dolphins and porpoises that have been recorded in the Great Barrier Reef, including the dwarf minke whale, Indo-Pacific humpback dolphin, and the humpback whale.
Back on dry land, The Cairns Botanic Gardens is worth a view, and there's also the opportunity for white water rafting, bungee jumping and my personal favourite the Skyrail Rainforest Cableway with it's incredible views, stunning colours and terrifying heights - pay the extra for the glass-botttomed 'Diamond Car' for your chance to watch the wildlife frolicking in the tree tops.
Koh Tao, Thailand

Biased? Never!
An easy ferry ride from our bigger brother Koh samui, Koh Tao really is a great place to spend some time either above or below the surface, with a lot to do for all different types of visitor. With over 20 dive sites within a one hour radius of the island it's a piece of cake to get a couple of dives at our best sites and be back and finished by 11am, leaving the rest of the day free for some family time and island exploring. With some incredible viewpoints, mouth-watering cooking classes,, trapeze lessons, climbing spots, Muay Thai training, parties every night and beautiful snorkelling on fantastic beaches during the day...well it's certainly somewhere where even the laziest of souls can keep entertained. More information on some of the fabulous dive sites can be found right here on last weeks blog!
So, as you can see even if your group may not all be diving there are plenty of excellent options around the world where everyone can be kept happy whilst the divers can try to convince the others to take the plunge and finally take that Open Water license - did I mention that Koh Tao is the cheapest place in the world to do this?
Bon Voyage, and keep on diving!
Tuesday, 23 January 2018 08:59
The Best 5 Dive Sites on Koh Tao?
Fancy a few dives in beautiful warm tropical waters? Then this is the list for you; these are arguably the best 5 sites we have here on Koh Tao!
Chumphon Pinnacle                               
By far the most visually impressive site close to Koh Tao, this legendary pinnacle is easily the best chance to see the whalesharks that occasionally pass by our deeper dive spots. Perfect for both Open Water and Advanced fundivers and students, we always know that our divers are going to return from this site totally addicted to scuba diving! Once home to bullsharks and reef sharks, it's a fully submerged granite pinnacle 14 metres at it's shallowest point and reaching as deep as 47 metres off the northern tip (towards a secret pinnacle nicknamed 'The Castle' due to its shape). It's surrounded by schools of barracuda, large grouper towards the ocean floor and beautiful schools of fusiliers being hunted by passing king mackerel, trevally, queenfish and rainbow runners - an excellent place to watch the ocean at work, with a lot of interaction between the different types of fish that live there! It's also a great place to find some of our most beautiful nudibranch when you head towards the bottom, where old discarded fishing nets provide vital food for the lovely sea slugs that us divemasters love so much.
Average dive time - 35 minutes for OW divers, 45 minutes for Advanced or above.
South West Pinnacles

A beautiful mountain range of pinnacles, this fantastic deep site bottoms at around 28 metres and consists of one large pinnacle rising to just 6 metres from the surface, flanked by 2 smaller pinnacles on both the east and west edges. It creates a lovely vista with the five pinnacles often covered in juvenile barracuda rolling over the edges of the rocks, silhouetted by the sun to give one of Koh Tao's most awesome underwater sights - a 'waterfall' of fish cascading towards the diver. A great place to find all types of barracuda, shoals of squid towards the surface, cobia, a variety of eels and shrimp and of course as it's one of our deep sites there's always a chance to bump into a whaleshark or two if you're lucky!
It's also another one of our divesites that features a 'secret pinnacle', found by taking a bearing of 120 degrees from the eastern buoyline and swimming for about 5 minutes. The best part of the site in my opinion, it's a little deep for Open Water divers but this (usually) diverless part of the site is a great place to look for boxfish, nudibranch and everyone's favourite, stupid bloody 'Nemo'...
Average dive time - 40 minutes for OW divers, 50 minutes for Advanced
Laem Thian 'Caves'                                                                                  

A brilliant dive site for all except the claustrophobic, this shallow site contains about 20 swim-throughs, though we like to call them caves as it sounds much sexier! With most of them just a few metres from the surface and the deepest at just 15 metres, there's always incredible 'cathedral beams' of light entering the tunnels, lighting up the nurseries of fish that use the rocks as shelter till they're big enough to fend for themselves and also giving off a beautiful light show as waves crash into the cave above us. A great place to find orange-spine unicornfish - one of the prettiest fish we have here on Koh Tao - and also a good chance for turtles, giant pufferfish, eels, the weirdly wonderful dusky sweeper, lots of small stuff and every so often we bump into a black-tip reef shark in the shallows! It's also home to some of Koh Tao's nicest coral gardens, with a great variety of different types to be found towards the bay.
Average dive time - 45 minutes for OW divers, 60 minutes for Advanced
Shark Island

A dive site named as it looks like a huge shark fin when viewed from 'Aow Leuk' beach facing it, Shark Island really has it all - deep southern sections reaching 30 metres, with piles of fluroescent soft corals, cobia and nudibranch, the east side where we have swim throughs, blue-spotted ribbontail rays, filefish and triggerfish chasing whatever gets too close, and the north with it's incredible coral gardens and hordes of the typical Koh Tao reef fish everywhere you can imagine - also the best snorkeling spot for miles around too. It's one of those sites where you come back with a stiff neck from trying to watch all that's going on around you, and it always leaves you wanting more. It's also possible to see whalesharks every now and then here coming up from the deeper parts of the island, and there's a resident turtle that'll be lurking around the southern sections most days.
Average dive time - 45 minutes for OW divers, 60 minutes for Advanced
 HTMS Sattakut 742 Wreck                                                                                                    
A dive site that is usually the most popular with our Advanced students (and usually the one they're still talking about days later), the Sattakut wreck is essential viewing at least once when backpacking Thailand and trying out a bit of scuba diving. Built in 1942 and sunk here in 2011, the Sattakut lays in the sand just one minute south of the dive site Hin Pee Wee, which is always the best way to approach her - to glide past the beautiful natural corals and suddenly find yourself nose to nose with a huge WW2 warship is an experience all divers here should partake in, it really takes your breath away when dived properly! Home to eels, sweetlips, shrimp, grouper and the amazingly-named Harry hotlips, it's also worth taking a peek underneath it where we can often find a huge jenkins whipray hanging out and looking evil.
The HTMS Sattakut is 46 metres long, 7 metres wide and has two canon guns, with the shallowest part being the bridge which lies at a depth of 18 metres, and reaching a depth of 31 metres at the stern, maiking it suitable for Advanced divers only. It was used in the US naval attacks on Iwo Jima and Okinawa in WW2, and it's not unusual to see our Japanese divers kamikaze into it to regain family honour, or something equally as daft that I just made up.
Average dive time - 40 minutes for Advanced students, 50 minutes for more experienced divers
Other notable sites loved by all include Green Rock, Samran Pinnacles, Sail Rock (which is closer to Koh Phangan, so doesn't really count) and Hin Wong Pinnacle, all of which can be booked with our team in person at the resort.
Saturday, 20 January 2018 11:09
Which Open Water Course - PADI or SSI?
As one of the longest running scuba diving schools on Koh Tao, we've probably been asked every question about diving you could think of, in particular regarding the Open Water license that so many of our students come especially to do here on Koh Tao - after all it is renowned as being the cheapest place in the world to do the Open Water course! Even compared to our nearest neighbours on Koh Phangan (approximately 10,000 baht without accommodation) and Koh Samui (approximately 15,000 baht without accommodation) we manage to provide high quality, professional and above all safe Open Water diving courses to all those backpacking Thailand and choosing the mighty Big Blue for all their diving needs.
One of the questions we're asked time and again is regarding the two major Scuba Diver Training agencies we have today:
PADI - (Professional Association of Diving Instructors) is the world's largest scuba training agency. PADI Instructors can teach independent of a dive store.
SSI (Scuba Schools International) is the world's largest store based training agency. SSI Instructors and Dive Masters must be affiliated with a physical store.
From personal experience, people come to Koh Tao usually with the intention of doing 'their PADI', as the team at PADI Marketing do a bloody brilliant job at promoting their brand with posters, magazine spreads, the huge banners and stalls at every dive expo on the planet. SSI on the other hand have a much smaller marketing budget that they gain from smaller dive agency fees, smaller certification cost fees and smaller staff budgets. There are actually over 120 dive organisations in the world that can give you an Open Water license, other popular ones being BSAC in the UK, CMAS over Europe, Naui in the USA and my new all-time favourite, the Polish Tourist Country-Lovers Society Underwater Activity Commission, which sounds much sexier.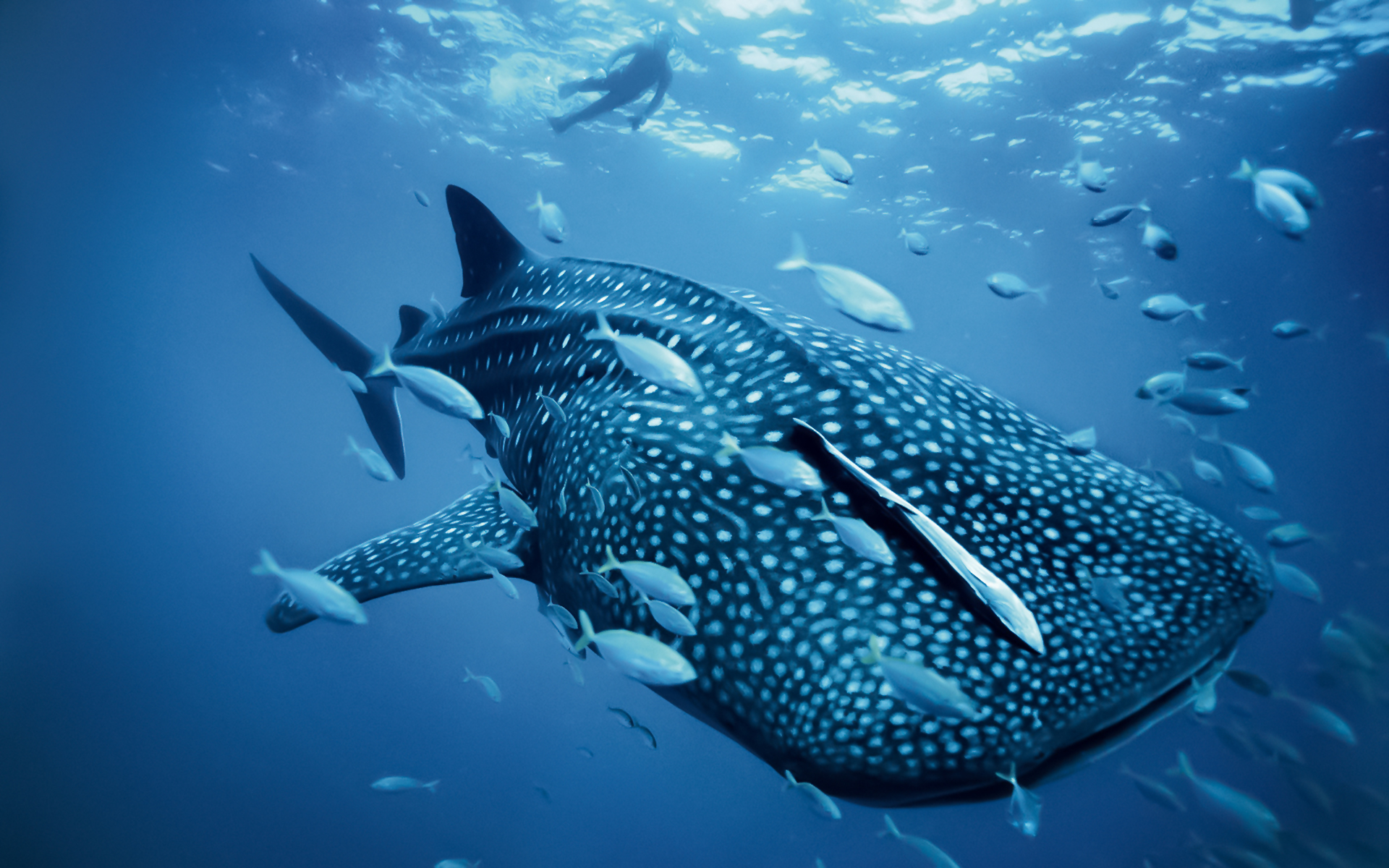 So what's the difference then?
INTERNATIONALLY RECOGNISED?
Any of the dive organisations in the world can give you the Open Water license, and with it you can dive in every dive centre in the world for the rest of your life - an SSI diver can of course dive in a PADI centre or the other way round, for example. In fact, no dive centre can turn you away just because you have a different license to what they offer!
They are also completely interchangeable – you can get certified as an Open Water Diver with SSI, then Advanced Diver with PADI, then Rescue with NAUI and so on up to instructor level, without being made to repeat courses.
COST OF CERTIFICATIONS
SSI is usually cheaper, as they don't insist that the student buy a manual/app for the course. You can borrow one of our books or use the app for free!
PADI, however, do insist on purchasing the materials – no matter if you are traveling around the world or learning at home. They feel that post-course review of materials is important to maintain knowledge-levels. They offer an e-book in case you don't want to carry a pretty heavy book around with you for the rest of your trip. Here at Big Blue that adds 1000 baht to the course price, the price of an extra dive at the end of the course and a couple of beers to help wash it down!
ONLINE LEARNING
Both SSI and PADI offer their students the option to start the practical portion of the lessons online, which will save time and gives divers more time to just dive. The difference here is both cash and longevity: SSI's online learning is free, whereas with PADI you will pay about US$150. PADI offer you access to their system for one year from when you sign up, whereas with SSI it's there for you all the time, even after the course. If you choose not to buy the book, you can simply log in and use the site as a review when you want a refresher later on!
SAFETY
Science, skills and techniques are exactly the same, meaning no difference in safety at all
EASE OF LEARNING
With SSI the course is taught with an 80/20 approach, meaning the instructor can adapt 20% of the course to fit the pace of learning, ensuring a student focused training programme worked around the needs of the students - after all everyone learns at different paces.
PADI however insists skills are performed in rigid sequence with no room for manoeuvre for changing water conditions or student learning pace. If you do change the order they dictate, they've broken standards that must be adhered to - a big no-no for a dive instructor!
Is this relevant to you as a student then? Imagine you're having problems mastering a skill with PADI who say that skill 'A' must be followed by skill 'B' and so on… As you struggle your confidence will suffer, and we have to get you to complete this particular skill before being able to move on, asking you to try one more time, and again...often embarassing and humiliating the student especially if the other students had no problems! Being forced to try something you're having bother with again and again doesn't seem like the best way to teach, in my opinion - and I'm a PADI diver myself! With SSI your instructor can move on, do a couple of 'easier' skills to boost your confidence then come back to the problem area at a later time when you seem to be more comfortable - a much better teaching technique than the 'try it again, try it again' method, and one that leads to a lot less students having to drop out of the course because they got stuck on something.
SSI also allows our instructors to add information and/or skills if that improves the quality of the scuba license. For example, if you want to know more about the whalesharks that we see here sometimes, we are able to spend some extra time talking about the dangers they face, what we can do to help and so on - making the course a lot more enjoyable!
CONCLUSIONS
Overall, the courses teach the same information because they adhere to the standards set forth by the WRSTC - the governing body of scuba-diving worldwide. Remember, no matter which organization you take a course with you will use the same kind of equipment and see the same marine life underwater.
A lot of divers working in the industry will tell you that it does not really matter whether you choose SSI, PADI or any of the others on offer out there, after all when you finish you get a scuba certification card and you can dive anywhere in the world.
Here at Big Blue we make more money from the more expensive PADI course, and all of our instructors can teach both PADI and SSI. They actually get paid more for teaching PADI Open Water, but if given the chance to choose I'm sure every one of them would go for SSI simply because it's more focused on the learner and any problems they may encounter during the course, making it easier for both student and teacher and therefore resulting in a lot more successful, freshly certifed Open Water divers!
Book your PADI or SSI course today on our website www.bigbluediving.com or come to to us in person when you arrive on Koh Tao - courses start at 5pm every day of the year! 
Tuesday, 16 January 2018 12:16
Sail Rock - Koh Tao and Koh Phangan's Premier Divesite
The 'Rock Star' divesite of the Gulf of Thailand, Sail Rock is renowned for being the best dive site in all of the Gulf of Thailand. It's just a gentle cruise from Koh Tao, and a site which we only visit on our world-famous Full Day Trips. Every scuba diver that visits our piece of paradise should visit this site at least once, it's really that good!

With no other dive site for miles around all of the larger species in the area are attracted towards this site, making it by far the best place to see whalesharks and the other big stuff that hangs around our sites - last year there were at least 102 whalesharks sightings here, the most ever seen in the history of Koh Tao/Koh Phangnan diving! Once home to bullsharks that we hope will soon return to us (damn you over-fishing!) it's covered in pelagics - schools of chevron and pickhandle barracuda, batfish, queenfish and fusiliers...and not just the 20-30 we're used to seeing closer to Koh Tao, each school usually containing hundreds! The edges of the site are usually home to prowling King Mackerel over a metre long and huge, fat grouper lurking at depth, which are always looking to feed on the smaller fish that blanket the dive site - an incredible sight when you see them zooming through the ocean to pick off the stragglers at the edges of the schools of fusiliers, often working together with the rocketship of our dive sites, the super-fast queenfish!
My favourite part of this wonderful site isn't the main pinnacle (which can be seen jutting out of the ocean like a large pimple) but what is commonly known as the 'Secret Pinnacle', a two minute swim from the main site. The top of the secret pinnacle is at around 18 metres depth, making it a little deep for the Open Water divers (but still possible!) it's literally swarming with marine life. There's no better place to watch the ocean's residents in action, everything living on this submerged granite pinnacle is chasing each other, trying to eat the smaller things, hiding in the corals to escape predators - it's like actually being inside one of those phenomenal Blue Planet documentaries! It's also the part of the dive site where we've seen more whalesharks than anywhere else, so you can understand why we love to spend the majority of our dive there!
When you start to tire of the marine life that's surrounding you (the Divemasters often return from these trips with a stiff neck, there's so much to see) we usually then head to a quite unique feature on this amazing site - 'The Chimney'. A vertical swim-through which starts just 6 metres from the surface and ends at a depth of 17 metres, it's home to a few types of shrimp but personally I personally believe the only way to enjoy it properly is to do one of those beautiful, head down descents where it feels like you're skydiving, surrounded by the granite with beautiful 'cathedral beams' of light filling the swim-through, then zooming out (don't forget to equalise fast!) straight into one of the batfish cleaner stations, where it's usually possible to see the colours of the fish totally disappear into a bizarre white version of itself as it's being seen to by the cleaner wrasse, the colours then returning as when it moves away!
Sail Rock is located 1 hour from Koh Phangan, 90 minutes from Koh Samui and 2 hours from Koh Tao. For your chance to dive this premier site you'll need just an Open Water license, and to book with us at least the day before the scheduled trip.