Decided to come visit our little piece of paradise? Here we'll talk a little about the 3 different ways you can get to Koh Tao from Bangkok!
The Fastest/Most Expensive Way – Fly and Ferry
By far the shortest and easiest way to get here if your budget allows it is to take a flight and ferry combo. From Bangkok you can catch a flight to Koh Samui - there are two airlines offering services, Bangkok Airways and Thai Airways. Bangkok Air have more flights from Bangkok-Koh Samui making it very convenient for connecting to your ferry. Flights depart every half an hour from 6am to 10pm, and take about an hour to reach Samui - just be sure to check the boat timetables to Koh Tao before you book your flight to be sure of the connections!
Usually a slightly cheaper flight is to go from Bangkok to one of the nearby towns on the mainland, Chumphon or Suratthani. There are two budget airlines offering the combined tickets of flight, coach and boat - Nok Air and Air Asia. Nok Air connects with our favourite ferry (it's faster and a lot more reliable than the others) the Lomprayah at Chumphon or Suratthani, while Air Asia connects with the slower, less comfortable Seatran ferry at Suratthani.
The Cheapest/Most Uncomfortable Way – Bus and Ferry
By far the most popular and social way to get to Koh Tao (especially with all our Thailand backpackers) is to take the bus from Bangkok, and then connect to a ferry from the mainland town of Chumphon.
There are two companies who offer this service; Lomprayah and Songserm. Their (so-called) VIP air-conditioned buses depart Bangkok at around 8pm from Khao San Road, and arrive at the relevant pier at Chumphon around 7 hours later, depending on traffic and the enthusiasm of the driver! The bus will usually stop once around half way for about 20 minutes only, and give you a chance to grab something to eat and a quick toilet stop – the toilets on the buses are tiny and usually absolutely stinking!
The boat journey to Koh Tao is between 2 hours (Lomprayah) and 3 hours (Songserm) depending on the company you choose to go through.
We always recommend using the slightly more expensive Lomprayah over the Songserm if you are going to take the bus down to Chumphon, quite simply because it's quicker, the buses are usually more comfortable and every so often we hear stories of people's bags having things stolen from them on the Songserm bus – something that we've never heard from our Lomprayah travellers!
The Coolest Way - Sleeper Train and Ferry
Travelling on the sleeper train is, to be perfectly honest, absolutely great! It's always a lot more comfortable than the bus as you can walk around to stretch your legs, have a cheeky cigarette, there's a restaurant car to fill up on cheap Thai food and the staff on there can often provide a sneaky beer or two for you if you're willing to pay a little over the odds for them! First Class (AC) and Second class (fan) sleeper come with a real (surprisingly comfortable) bed so you can sleep during the journey, plus there's also the option of paying a bit extra for a 'private' 2 person cabin if your budget allows it!
Third class however does not come recommended by yours truly, as it's just a seat rather than a bed and they're not the most comfortable seats you'll ever sit on.If you do decide to go for the AC carriage be aware like most air-conditioned places in Thailand it can get rather cold, so pack a pair of jeans and a jacket near the top of your backpack just in case!
From Bangkok, you'll leave from Hua Lamphong Station at around 7pm, and the train gets to Chumphon station usually around 5am. The boat companies provide free transfers between their pier and the train station, and the first boats depart to Koh Tao at 7am – as always we recommend the Lomprayah over the other ferries if it's available.
As with all trains, delays are possible so you may have to get an afternoon ferry to Koh Tao if you don't make it in time for the early boat – in this case there's a great travel agent just 5 minutes from the station called 'Fame Tours' where you can leave your belongings, have a wash and a bite to eat and book your tickets for the ferry of your choice. 
Be aware that buying your train tickets online will usually cost a few hundred baht more than buying them in person, and as a general guide for the Bangkok to Chumphon route you can normally buy 2nd and 3rd Class Fan Seats on the day of travel but not 1st and 2nd Class Sleeper seats and 2nd Class AC Seats, so it needs a little forward planning.
Finally at busy times of the year (including the week before and after Koh Phangan's monthly Full Moon Party) sleeper beds are usually fully booked up to a week in advance.
Whichever way you decide to come and visit us here on Koh Tao, be sure to keep a close eye on your belongings, and also keep an open mind on the possible delays and waiting around time that Thailand is famous for…
Bon voyage!
As anyone who loves to dive knows, planning the next trip away is always very exciting, with so many options for world class diving now in easy reach reasonably cheaply. Pouring over old diving magazines and websites may well be heaven for the scuba addict, but what if you've got a non-diver (boo!) in tow who also needs something to do as you're having the time of your life underwater?
Hopefully this blog is exactly what you'll need in this situation, with my list of the best dive spots where non-divers can also have a whale of a time, just without whales!
The Galapagos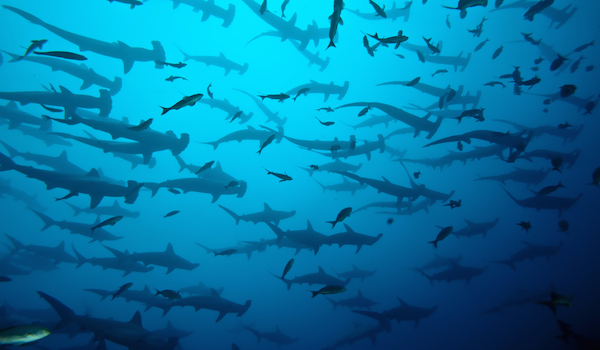 Very often found at the top of every divers bucket list, Galapagos is THE place to visit if your budget allows. The 'cradle of evolution' is not only a top dive destination, but also a great place to view wildlife in general. The Galapagos' various islands are quite different - while some have picture-perfect beaches and remote wildlife reserves, other are volacanic and rock covered.
Many plants and animals are endemic (native to the area), so you won't see them anywhere else in the world and the opportunities for wildlife viewing are arguably unmatched anywhere in the world. Above water, it's a must to see the massive Galapagos tortoise which lives over 100 years and is of varying sizes and shapes, depending on which island you visit. You can also hike up the Sierra Negra volcano on Isabela Island or explore the underground lava tubes of Santa Cruz, formed when cooler, outer parts of lava flows hardened into thick rock walls, providing insulation to keep a flow going inside. Remember to bring your torch!
Although most divers dream of a liveaboard trip to the Galapagos, with non-divers in your party it's often not an option. However, there are plenty of shore or day-trip dives available as well. Divers and snorkelers should see turtles, the amazing marine iguana, hammerheads, rays, whale sharks, penguins or sea lions.
Egypt                                                                           
Booking a scuba diving vacation in Egypt is high on most divers hit-list, and if your non-diving partner loves history and culture then you're both in for a treat with what Egypt can offer you! Stunning Egyptian cultural and historic sites (no need to mention them here I imagine) are within reach of many of Egypt's scuba diving hot spots. Divers should in particular check out 'Big Brother' with its oceanic white-tip sharks, hammerhead sharks, silver-tip and even the very rare thresher shark on occasion. Another popular site is Daedalus (known for it's abundance of large fish and the dozens of hammerhead sharks that can be seen on a good day), and of course the SS Thistlegorm, which is often rated as one of the best wreck dives in the world. Its deepest point is sitting at approximately 37 metres, making the majority of the ship accessible to those holding a SSI/PADI Advanced Open Water certification!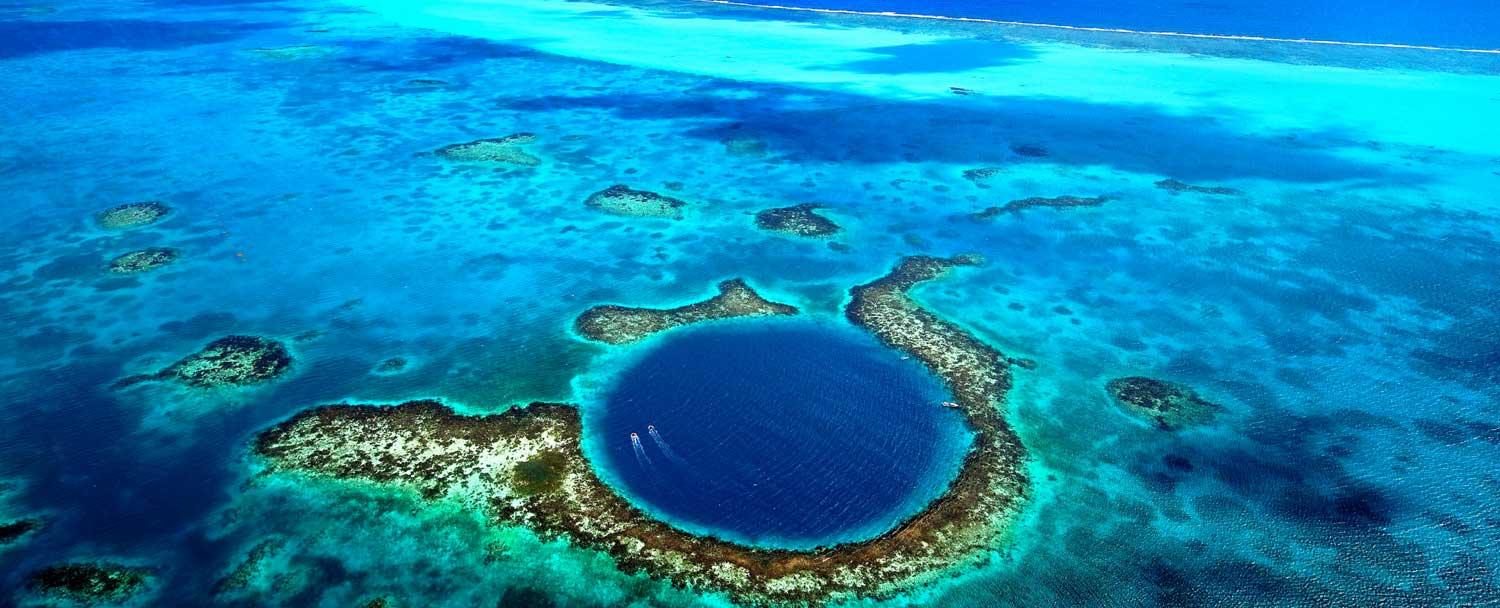 Belize                                                                           

Well known for its boat, shore and live-aboard diving opportunities along the Belize Barrier Reef and, of course the Blue Hole which can be seen from space! Divers can expect to see lots of sharks, turtles and reef fish no matter where they choose to dive; however, Belize also offers the more active family lots of options when it comes to activities like cave tubing, horseback riding, ziplining and rafting.
There are Mayan temples and rainforests to explore, and families can visit Placencia where it's an absolute paradise for manatee lovers, due to its protected lagoon where three rivers merge. It's home to about 1,000 manatees, and the population is stable so it should be possible to see these bizarre creatures all year round. Ambergris Cay, Belize's largest island, is also a great base for a vacation. There are lots of restaurants, snorkeling, windsurfing and kiteboarding, as well as access to the Hol Chan Marine Reserve where you can snorkel or dive with sharks and huge stingrays. For those who love the beach or relaxing on a hammock whilst waiting for the divers to return Belize is ideal, with some of the best beaches on Ambergris Caye, Caye Caulker, Placencia, Hopkins and in southern Belize.
Oh, don't forget English is their first language too, so it's easy to plan all this when you get there!
Cairns, Australia                                                           

Unfortunately a lot harder to be understood as the locals speak an English dialect called 'Straylian', Cairns is a mecca for scuba diving due it's close vicinity to the phenomenal Great Barrier Reef. Day trips to the Outer Great Barrier Reef are a great choice for the diver or snorkeller who is short on time, and there are a huge variety of trips on offer that will keep everyone happy, diver or not!
Most day trips focus on the 'Inter Reef Gardens', heading off to places like Green Island, Michaelmas Cay, Fitzroy Island, and reefs in close proximity to these places. It's also worth checking for day trips on the faster boats, which make it possible to get out to the Outer Reefs in one day - the corals are much better here. For marine life, cross your fingers for one of the thirty species of whales, dolphins and porpoises that have been recorded in the Great Barrier Reef, including the dwarf minke whale, Indo-Pacific humpback dolphin, and the humpback whale.
Back on dry land, The Cairns Botanic Gardens is worth a view, and there's also the opportunity for white water rafting, bungee jumping and my personal favourite the Skyrail Rainforest Cableway with it's incredible views, stunning colours and terrifying heights - pay the extra for the glass-botttomed 'Diamond Car' for your chance to watch the wildlife frolicking in the tree tops.
Koh Tao, Thailand

Biased? Never!
An easy ferry ride from our bigger brother Koh samui, Koh Tao really is a great place to spend some time either above or below the surface, with a lot to do for all different types of visitor. With over 20 dive sites within a one hour radius of the island it's a piece of cake to get a couple of dives at our best sites and be back and finished by 11am, leaving the rest of the day free for some family time and island exploring. With some incredible viewpoints, mouth-watering cooking classes,, trapeze lessons, climbing spots, Muay Thai training, parties every night and beautiful snorkelling on fantastic beaches during the day...well it's certainly somewhere where even the laziest of souls can keep entertained. More information on some of the fabulous dive sites can be found right here on last weeks blog!
So, as you can see even if your group may not all be diving there are plenty of excellent options around the world where everyone can be kept happy whilst the divers can try to convince the others to take the plunge and finally take that Open Water license - did I mention that Koh Tao is the cheapest place in the world to do this?
Bon Voyage, and keep on diving!
Fancy a few dives in beautiful warm tropical waters? Then this is the list for you; these are arguably the best 5 sites we have here on Koh Tao!
Chumphon Pinnacle                               
By far the most visually impressive site close to Koh Tao, this legendary pinnacle is easily the best chance to see the whalesharks that occasionally pass by our deeper dive spots. Perfect for both Open Water and Advanced fundivers and students, we always know that our divers are going to return from this site totally addicted to scuba diving! Once home to bullsharks and reef sharks, it's a fully submerged granite pinnacle 14 metres at it's shallowest point and reaching as deep as 47 metres off the northern tip (towards a secret pinnacle nicknamed 'The Castle' due to its shape). It's surrounded by schools of barracuda, large grouper towards the ocean floor and beautiful schools of fusiliers being hunted by passing king mackerel, trevally, queenfish and rainbow runners - an excellent place to watch the ocean at work, with a lot of interaction between the different types of fish that live there! It's also a great place to find some of our most beautiful nudibranch when you head towards the bottom, where old discarded fishing nets provide vital food for the lovely sea slugs that us divemasters love so much.
Average dive time - 35 minutes for OW divers, 45 minutes for Advanced or above.
South West Pinnacles

A beautiful mountain range of pinnacles, this fantastic deep site bottoms at around 28 metres and consists of one large pinnacle rising to just 6 metres from the surface, flanked by 2 smaller pinnacles on both the east and west edges. It creates a lovely vista with the five pinnacles often covered in juvenile barracuda rolling over the edges of the rocks, silhouetted by the sun to give one of Koh Tao's most awesome underwater sights - a 'waterfall' of fish cascading towards the diver. A great place to find all types of barracuda, shoals of squid towards the surface, cobia, a variety of eels and shrimp and of course as it's one of our deep sites there's always a chance to bump into a whaleshark or two if you're lucky!
It's also another one of our divesites that features a 'secret pinnacle', found by taking a bearing of 120 degrees from the eastern buoyline and swimming for about 5 minutes. The best part of the site in my opinion, it's a little deep for Open Water divers but this (usually) diverless part of the site is a great place to look for boxfish, nudibranch and everyone's favourite, stupid bloody 'Nemo'...
Average dive time - 40 minutes for OW divers, 50 minutes for Advanced
Laem Thian 'Caves'                                                                                  

A brilliant dive site for all except the claustrophobic, this shallow site contains about 20 swim-throughs, though we like to call them caves as it sounds much sexier! With most of them just a few metres from the surface and the deepest at just 15 metres, there's always incredible 'cathedral beams' of light entering the tunnels, lighting up the nurseries of fish that use the rocks as shelter till they're big enough to fend for themselves and also giving off a beautiful light show as waves crash into the cave above us. A great place to find orange-spine unicornfish - one of the prettiest fish we have here on Koh Tao - and also a good chance for turtles, giant pufferfish, eels, the weirdly wonderful dusky sweeper, lots of small stuff and every so often we bump into a black-tip reef shark in the shallows! It's also home to some of Koh Tao's nicest coral gardens, with a great variety of different types to be found towards the bay.
Average dive time - 45 minutes for OW divers, 60 minutes for Advanced
Shark Island

A dive site named as it looks like a huge shark fin when viewed from 'Aow Leuk' beach facing it, Shark Island really has it all - deep southern sections reaching 30 metres, with piles of fluroescent soft corals, cobia and nudibranch, the east side where we have swim throughs, blue-spotted ribbontail rays, filefish and triggerfish chasing whatever gets too close, and the north with it's incredible coral gardens and hordes of the typical Koh Tao reef fish everywhere you can imagine - also the best snorkeling spot for miles around too. It's one of those sites where you come back with a stiff neck from trying to watch all that's going on around you, and it always leaves you wanting more. It's also possible to see whalesharks every now and then here coming up from the deeper parts of the island, and there's a resident turtle that'll be lurking around the southern sections most days.
Average dive time - 45 minutes for OW divers, 60 minutes for Advanced
 HTMS Sattakut 742 Wreck                                                                                                    
A dive site that is usually the most popular with our Advanced students (and usually the one they're still talking about days later), the Sattakut wreck is essential viewing at least once when backpacking Thailand and trying out a bit of scuba diving. Built in 1942 and sunk here in 2011, the Sattakut lays in the sand just one minute south of the dive site Hin Pee Wee, which is always the best way to approach her - to glide past the beautiful natural corals and suddenly find yourself nose to nose with a huge WW2 warship is an experience all divers here should partake in, it really takes your breath away when dived properly! Home to eels, sweetlips, shrimp, grouper and the amazingly-named Harry hotlips, it's also worth taking a peek underneath it where we can often find a huge jenkins whipray hanging out and looking evil.
The HTMS Sattakut is 46 metres long, 7 metres wide and has two canon guns, with the shallowest part being the bridge which lies at a depth of 18 metres, and reaching a depth of 31 metres at the stern, maiking it suitable for Advanced divers only. It was used in the US naval attacks on Iwo Jima and Okinawa in WW2, and it's not unusual to see our Japanese divers kamikaze into it to regain family honour, or something equally as daft that I just made up.
Average dive time - 40 minutes for Advanced students, 50 minutes for more experienced divers
Other notable sites loved by all include Green Rock, Samran Pinnacles, Sail Rock (which is closer to Koh Phangan, so doesn't really count) and Hin Wong Pinnacle, all of which can be booked with our team in person at the resort.